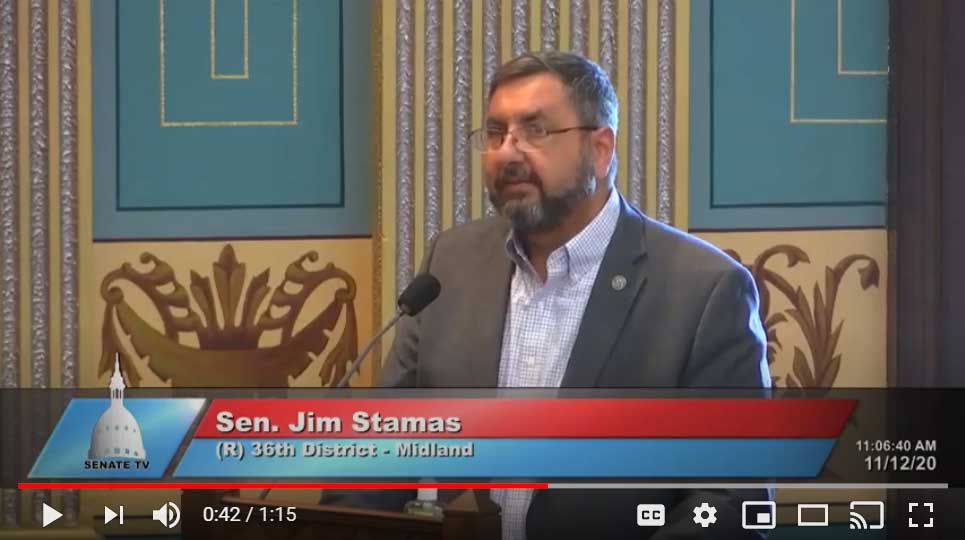 LANSING, Mich. — Sen. Jim Stamas on Thursday gave a memorial tribute on the Senate floor during session in honor of the life and memory of former newspaper owner and publisher and conservation activist Harry Whiteley.
"I rise today to say a special tribute to a gentleman who was just shy of his 101st birthday as he passed away on Nov. 3 — Harry Hoeft Whiteley of Rogers City," said Stamas, R-Midland. "Mr. Whiteley returned to Rogers City in 1940, immersing himself in the small-town home newspaper owned by his family. He was a lifelong civic-minded individual with many organizations. One close to his heart was conservation.
"Mr. Whiteley served 25 years on the Michigan Natural Resources Commission. Through multiple changes of partisanship, he continued to serve and brought forth a great northern passion for conservation and civic service. He certainly will be missed. We appreciate all of his service. We thank the family for their time and efforts as well, and we say, 'Well done, sir. Rest in peace.'"
Whiteley was appointed to the Michigan Natural Resources Commission and Michigan Travel Commission by Govs. John Swainson, George Romney, Bill Milliken, Jim Blanchard and John Engler. President George H.W. Bush also appointed him to the Great Lakes Fishery Commission. He is survived by his wife of 70 years, Betty, their four children, seven grandchildren and two great-granddaughters.
###
Editor's note: Video of Stamas' tribute is available by clicking on the image above or at https://www.senatorjimstamas.com/video/.